News
Oct 2009 London Borough of Richmond choose Thermotech Underfloor Heating
The London Borough of Richmond upon Thames is recognised for its innovative approach to climate change with many initiatives including the Go Green Portal, Smarter Travel, the promotion of Car Clubs and participation in many other sustainable projects.
It was no surprise therefore to hear that the new cycle facilities for the Civic Centre in York Street would encompass low energy renewable solutions such as underfloor heating in conjunction with solar panels.
The facilities themselves provide showering, changing and drying areas for those that have cycled to work. Encouraging more people to make the change to pedal power.
Thermotech were chosen because they could complete the work, from laying the insulation, underfloor pipe loops and the final thermally efficient liquid screed, in one operation. This eliminated any co-ordination problems and ensured that each operation was carried out to the highest standard.
Under the watchful eye of the resident officials many comments were made regarding the high standards maintained throughout the project.
Like many other clients, the London Borough of Richmond upon Thames has discovered that sustainability doesn't cost the Earth with Thermotech.
Jan 2008
Thermotech Underfloor Heating Repairs
Thermotech are now able to offer a repair service on other makes of water based underfloor heating systems. Customers can choose to have repairs carried out by Thermotech Underfloor Heating engineers or just have a report on the system issues.
Either way you can rest assured that the underfloor heating system will be examined by our own experts using some of the latest technology including thermal imaging devices.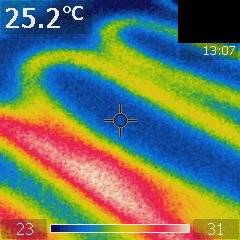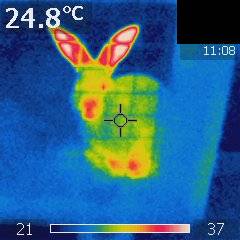 Using thermal imaging we can identify problems that originate under the floor and cannot be seen by the naked eye now that the floor has been screeded. This method can be used to highlight installation problems that your installer might have thought were safely covered up.
We can also use thermal imaging to identify a wide range of problems within buildings, including sources of heat loss, overheating of electrical conductors prior to breakdown and water leakage or ingress.
July 2007
Thermotech introduce Self Preparation Allowance
Until now we have always included the cost of laying customer supplied thermal insulation in our quotations. This was due to the very lax attitude of some builders in completing this task. However, as the recognition of the neccessity of correctly installed thermal insulation has now been acknowledged by the majority of builders, this process is being completed correctly in the majority of new-build projects. We are therefore offering our customers a choice on all new quotations.
Standard Installation - which still includes the cost of laying the insulation, for those who want the complete underfloor heating service including floor preparation.
Self Preparation - where the customer undertakes the preparation of the floor, prior to the installation of underfloor heating, to the relevant standard. In opting for this the customer takes responsibility for preparing the floor and receives an appropriate allowance.
So now the choice is yours.
June 2007
Grand Designs Live
With another show all packed away there's time to reflect on the comments we received during the exhibition. Broadly there are three types of people we have seen:
Those looking for cheap DIY underfloor heating kits for self-installation - Sorry we can't help you.
Those who are not sure about the differences between our service and an underfloor heating system from other suppliers - Let's talk about it.
Finally the people that have recognised the differences between underfloor heating systems and are looking for a quality system professionally installed - You've found us!
But aren't people strange? We were giving estimates for fully specified underfloor heating systems INCLUDING installation and we had people comparing this cost to the purchase of a cheap underfloor heating kit. A quiet word, your builder or plumber is NOT going to lay the floor insualtion and the pipe loops for nothing, there is a cost involved in installing it. This may seem obvious to most people but it is surprising how many people overlook such items, especially given the nature of the Grand Designs exhibition and the programme itself. Perhaps this is why so many projects go way over budget and time TANSTAAFL?
May 2007
Grand Designs Live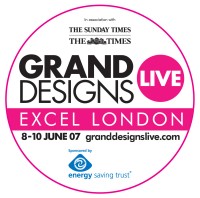 We can't believe that it is nearly 12 months since the last Grand Designs Live at London's Excel, but all the calendars tell us that it is. So, we prepare once again to welcome customers, old and new, to our stand B199
October 2006
Grand Designs Live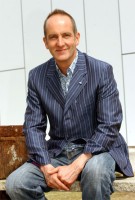 A big thank you to everyone that came to see us on the stand, the response was overwhelming! We apologise for the wait that some of you experienced in trying to get to talk to us, although everyone seemed to appreciate that even if there had been 10 members of staff on the stand people would still have been waiting.
It was very encouraging that a large number of people had visited our competitors underfloor heating stands, and then returned to ours and waited. The comments that we heard repeatedly were that our underfloor heating components were a higher quality and that we offered underfloor heating installed by our own technicians. Obviously, we know the quality of our components, which is the criteria they are selected on, but it was reassuring to see that the public recognised this and are looking to the long term in choosing their underfloor heating system on quality and reliability rather than initial cost.
Kevin McCloud entertained everyone with a song at the Exhibitor Party and may have contributed to the on-going marriage of one of our team. Confused? We think he was too! See the Tea Break section for the story.
September 2006
Grand Designs Live
Following on from the success of Grand Designs Live at London Excel in June preparations are well under way for the Birmingham event at the NEC 6-8 October.
If you are coming to the show please call and see us on Stand B288
For more information on the Grand Designs Exhibition, based on the hugely successful Channel 4 TV series, click on the image above.
www.granddesignslive.com
June 2006
Grand Designs Live
Come and visit Thermotech Underfloor Heating at Grand Designs Live, 2nd to 4th of June at London ExCeL.
Last year saw 43,000 visitors to the exhibition, this year the organisers expect 60,000, so it looks like being a busy weekend. Make a note in your diary and stop by and see us on
Stand B199
For more information on the Grand Designs Exhibition, based on the hugely successful Channel 4 TV series,
VISIT
December 2005
New arrival brings joy weighing in at 920 Kg!


This month we welcome the youngest member of the team, a shiny new Lancy screed pump. As part of our on-going investment and commitment to providing outstanding service to our customers this new pump is capable of delivering over 100 litres per minute, which is slightly less than your average new born.
Unlike many of our competitors, who hire pumps when required, we own our equipment ensuring that pump availability is never an issue when scheduling work. When we undertake your project you can rest assured that the work will be carried out by an Approved Installer (for Lafarge Gyvlon screed, Cemex Supaflo screed and Tarmac Truflow screed) using the latest methods and equipment.
June 2005
See what
Sarah Beeny
thinks of Underfloor Heating in
Build It magazine
&quot
I personally find underfloor heating very difficult to control, though I know those who swear by it. For me, it seems to take a long time to get hot and stays hot when you don't want it to be. I think underfloor heating works very well in the bathroom.
&quot
Well Sarah that's because you haven't tried one of our systems with individual zone control!

Mind you she also says on off-putting properties
&quotA poor finish is definitely off-putting – no fixings, exposed plumbing and cheap shoddy finishes&quot
We quite agree and that's why Thermotech only offer the highest standard of underfloor heating and floor screed.
"Built in Quality" Awards 2005
It was nice to see our work being included in these awards, recognising the high quality of building schemes in the area and sponsored by Liberty Properties PLC. work that is done to the highest standard and not just those that meet minimum building regulation requirements. Projects that consistently achieve high standards throughout the process are nominated by Building Control surveyors.
In the Single Dwellings category one of the "Highly Commended" finalists was 350 Cwmbach Road, Cockett, Swansea which included Thermotech Underfloor Heating and Pipe-in-Pipe plumbing.
City and County of Swansea article
November 2004
Home Movers Reveal the 'Added Extras' That Could Make or Break a Sale
Nationwide Building Society has conducted research amongst potential home buyers to understand what turns them on and puts them off properties for sale.
Nationwide Survey
22% would be most attracted to a property with a walk-in wardrobe
20% would find underfloor heating most appealing
13% said that a jacuzzi would attract them the most