Underfloor Heating - How it Works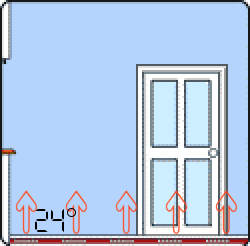 The principles of heating under the floor have been known since Roman times when warm air, from fires, was ducted under the floor. Many methods have evloved since then including electric underfloor heating and water based (wet underfloor heating).
Warm water circulating through a series of pipes, laid under the floor surface, creates a gentle radiant heat that is transmitted through the floor into the room. A simple yet remarkably effective and efficient form of heating for your home or office.
Heating from the floor up eliminates the disadvantages of conventional radiators, and a water based underfloor heating system gives a controllable, comfortable, economical and environmentally friendly alternative for new building developments or where major refurbishment is taking place.